3 Quick Facts
(1) You have a billion times more control over your child's behavior by controlling your own behavior. Parenting isn't even really about kids–it's about parents.
(2) Parents spend thousands of dollars and every waking minute worrying about their child's behavior–when in most instances, it's really about YOUR behavior!
(3) The good news is that you cannot control another human being's behavior, but you have 100% control over your own. Well, that's assuming you can control yourself. You must.
This summer, take the Calm Challenge. Focus relentlessly on changing yourself and we'll show you how to calm your kids. So here's how one everyday Mom just like you, with three kids, put this into action in very practical ways.



SIBLING FIGHTS


"So one day my 7-year-old ran outside to tell on his brother, as usual,
but this time I said, 'Give me two minutes.'
"I really did go make myself a bag of popcorn
and walked into the room where they were fighting and sat. I said, 'You all demonstrate great debating and arguing skills, maybe one of you will be a lawyer one day. I am just here to watch but if you want to problem solve I am here to talk about it, when you are ready.'
"What happened then was amazing to me. My four-year-old said, 'Mommy, I need to roll the thinking ball.' I complemented him on what a wonderful idea that was and soon the 7-year-old was rolling the ball with us. We worked through the problem while I complimented them on the skills they used to get to a calm place.
"My 10-year-old looked at me and said, 'Wow, Mom. I like the way you handled that. You didn't yell, you were just calm and talked to them so they could work it out.' I am not a crier but I cried."
I love how this Mom trusted her kids to own this disagreement rather than jumping in to fix it. She trusted her kids to step up and own their issues, while staying engaged and teaching them how.
(Want to learn how to stop reacting and control yourself? Click here to listen to these two short podcasts.)
STEALING
"My older son has been stealing snacks out of the pantry. I made him a 'Secret Snack Box.' I made rules about when and how he can get snacks, and it has given me the opportunity to compliment him on self confidence, self control, critical thinking skills. He has not stolen any snacks in 2 days now AND all the 'secret snacks' are still there! I cried, again.
CHORES
"This morning, I gave our boys a list of things I wanted them to finish by 5pm. 'I am going swimming at 5pm. If you guys are finished, you may go with me.' Even my strong-willed one was done by 3:30pm. This is a HUGE accomplishment for him. And, well, for myself actually.
"Normally he would be dawdling and I'd repeat, nag, or provoke him. But today I did not nag him. He did the last thing on the list first, which is what you said he would do! That made me laugh (instead of getting angry). Then he did 30 other things I didn't ask him to do and played in between–just as you said!
"But I controlled myself instead of controlling him. I caught myself several times jumping up to remind him or say something, but I didn't. I simply set timers and confidently did what I said I would–and I've never seen them move so fast.
"I feel like for the first time in a long time I am building, teaching and understanding. It is working and I have cried like a baby every day for the last 6 days."
This isn't even really about the kids–it's all about the Mom's attitude and confidence. Are you ready to cry happy tears for once, to feel confident, like you know exactly what to do and say? Are you ready to change yourself?
YOUR strong-willed child will NOT change until you change. Are you ready to change like this Mom? Focus on changing yourself instead of your child and spouse? If you are, then I will give you OUR 3 MOST POPULAR PROGRAM ($297 value) FREE as well. But you have to promise that you'll work on yourself first. No cheating.
Summer Sale: Get Our 3 Most Popular Programs ($297 value)

FREE

. (Only 19 sets remaining)
Want to finally stop the yelling and lecturing? Get control of yourself with our 30 Days to Calm Program. And we'll show you how to calm your kids for FREE.
You react when your kids push your buttons and just can't seem to stop, even though you know you have to. You get on your kids constantly, lecturing and eventually yelling.  It merely creates more power struggles and strains your relationships.
Only YOU have the power to create a new family tree and break these patterns so your kids don't grow up and struggle with the same issues.
Want to learn how to stop reacting? Click here to listen to a practical 9-minute podcast and a preview of one of the 30 action steps.
Want to control your emotions? Click here to listen to this short podcast: "Stop doing so much and get control of your emotions."

You invest in yourself to finally stop the yelling, lecturing, and power struggles. YOU GET OUR 3 MOST POPULAR PROGRAMS ($297 value) FREE. These are the same CDs that have changed over a hundred thousand families:
(1) Enjoy Your Strong-Willed Child: Stop Power Struggles from Morning to Midnight
(2) Discipline That Works: Get Kids to Listen the First Time
(3) Casey's Straight Talk for Kids: Get the Power & Freedom You Want
See below for complete descriptions and audio samples of these three programs.
*Available this summer only as Instant Downloads so you can listen ASAP, without shipping costs, while traveling, on your Smartphone, computer, tablet or other devices.
You've struggled with this for years. It took me 22 therapy sessions and $3,350 to learn these steps. We've consolidated this and made it simple, practical, and easy to apply.  The regular price of this program is going to be $300. But during this SPECIAL SUMMER SALE, you get a step-by-step guide to calm for the price of one trip to the therapist: only $150. PLUS you get an additional 9 hours of practical strategies and GET OUR 3 MOST POPULAR PROGRAMS FREE ($297 value).
30 Days To Calm: Stop Yelling, Lecturing, & Reacting (1 CD + 1 PDF Workbook + 45-page Q&A)
This is the same exact process Kirk used to change and become the Calm Guy. He provides 30 specific, concrete strategies to:
Stop the lecturing and yelling for good to create a new family tree.
Stop reacting when your kids, spouse, and friends push your buttons so you are in control of yourself.
Break the old patterns that cause you to worry about your kids' future and feel like you're not a good enough parent.
Get control of your time instead of feeling rushed, on edge and anxious. No more drama. No more anxiety.
Deal with daily pressures of morning rush, traffic, homework, bossy parents, social media, over-scheduling your kids, and more.
You will learn how to control yourself…instead of controlling everyone else. Finally. Includes a downloadable Workbook and 30 action steps (one per day) to break those old patterns.
Bonus: Features a 45-page Q&A with answers to your toughest questions and strategies to overcome your toughest triggers.
SUMMER SALE: GET 3 PROGRAMS FREE with your purchase of 30 Days to Calm! 
Get 9 hours of practical strategies and answers to your 100 toughest questions. Listen alone, listen WITH your kids, or have them listen alone. You will learn dozens of very practical, concrete strategies to stop defiance, disrespect, yelling, sibling fights, power struggles over screen time and homework. Plus your kids listen to Casey's Straight Talk For Kids and learn to control themselves.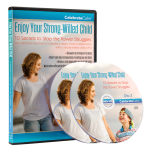 Stop Power Struggles with Your Strong-Willed Child (2 CDs, 2 hours). Kirk will show you how to cultivate a deep, trusting relationship with a strong-willed child who:

Only wants to do things on his terms.
Doesn't care about consequences or anything you care about.
Resists or shut downs when you try to talk to him.
Would rather suffer and do things the hard way than do what you ask.
Gets upset quickly over changes in plans.
Feels different than his siblings and classmates.
Gets the entire family revolving around his drama.
CD 2 Track 04: You can't let strong-willed kids walk all over you. But tough discipline should always lead to a closer relationship. Listen how to do this even when your child is defiant.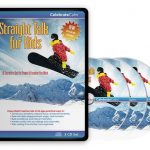 Straight Talk For Kids (3 CDs, 3 hours)
Kids listen as a teenager (Casey) shows them how to deal with daily disappointment, anger, frustration, peer pressure, siblings, and homework.
Kids feel understood, confident, motivated, and purposeful.
Casey teaches kids how to communicate with parents respectfully to earn trust.
Casey gives dozens of practical tools to handle sibling fights, organizational skills, focus, and social skills.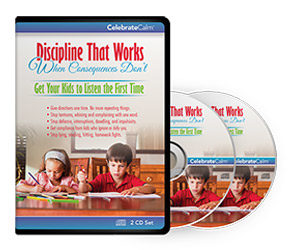 Discipline That Works: Get Your Kids to Listen the First Time (2 CDs, 2 hours)
Kirk will show you 25 ways to discipline without yelling to stop the fighting, lying, tantrums, whining, complaining and more. Learn to give directions ONE time… NO more repeating things!
Give directions one time. No more repeating yourself, yelling or bribing!
Stop lying, hitting, interrupting, tantrums, whining, and complaining.
Teach kids how to control themselves. A must have in every home.
Listen to a sample track:
If you have any questions or need help selecting the best CD/DVD sets for your family, please call us at 888-506-1871 or email Casey@CelebrateCalm.com. And yes, you will actually speak with us!