World Class Educator Training
Now Available For Your School
One of the hardest jobs in the world just got more challenging with the COVID-19 disruption. Give your teachers the benefit of world class training within any budget, on demand at your convenience. Celebrate Calm Founder Kirk Martin has trained over 400,000 teachers all over the world. Now via Zoom or Pre-Recorded Video, you can access his brand new Professional Development training.
How can you prevent kids who need consistency from falling behind with hybrid and distance learning models? How can you help kids with anxiety stay engaged and on task? How do you handle meltdowns, blurting out, disruptive behavior, sensory issues, and unmotivated/entitled students?
Teachers love our training because they can use 25+ specific, concrete, practical interventions immediately in the classroom. Plus it's engaging, insightful, and funny.
Watch the video above for a 30-minute preview of our Professional Development training.
Improve attention and retention.
Create behavior plans that improve behavior and impulse control.
Calm angry, frustrated, or anxious children.
Turn distracting, impulsive students into leaders.
Get students to be responsible for themselves.
CONTACT US NOW TO ACCESS TRAINING FOR YOUR SCHOOL: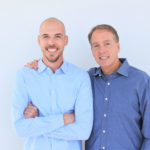 EMAIL: Casey@CelebrateCalm.com
PHONE: 888-506-1871